Checkra1n Jailbreak (Mac, Windows and Linux Guides)
How to Jailbreak using Checkra1n Jailbreak on your Windows, Linux or Mac Computer. Find all the step by step guides with images.
This article explains how to perform a complete jailbreak using the latest Checkra1n v 0.12.3 ?
Table of content.
Checkra1n jailbreak Compatible Devices
As we all know the Checkra1n jailbreak is based on a hardware exploit named Checkm8. So Checkra1n jailbreak is not like other jailbreak such as Unc0ver or Odyssey. When it comes to Checkra1n jailbreak, it has device limitations. Specially Checkra1n jailbreak doesn't support latest devices such as iPhone 12, IPhone 11 or iPhone XS, XR versions. Simply A14. A13 and A12 devices.
So here are the Checkra1n jailbreak supported iPhone and iPad list. If you still have any doubts or if you need more accuracy you can use a tweak app such as Checkra1n Compatibility Checker. This will show you not just the device compatibility but also the version compatibility too.
iPhone 5S,
iPhone 6 / 6 Plus,
iPhone 6S / 6S Plus ,
iPhone SE,
iPhone 7 / 7 Plus,
iPhone 8 / 8 Plus,
iPhone X,
iPad Air,
iPad Mini 2,
iPad Mini 3,
iPad Air 2,
iPad Mini 4,
iPad Pro (1st gen & 2nd gen),
iPad (5th gen, 6th gen & 7th gen),
iPod 6th gen & 7th gen,
Apple TV 4 & 4K,
Checkra1n jailbreak Compatible iOS versions
Most of the iOS 14 versions, all the iOS 13 versions and some iOS 12 versions are compatible with Checkra1n. Find out the supported version list below
iOS 14.5, iOS 14.4, iOS 14.3, iOS 14.2, iOS 14.1, iOS 14.0.1, iOS 14
iOS 13.7, iOS 13.6.1, iOS 13.6, iOS 13.5.1, iOS 13.5, iOS 13.4.1, iOS 13.4, iOS 13.3.1, iOS 13.3, iOS 13.2.3, iOS 13.2.2, iOS 13.2, iOS 13.1.3, iOS 13.1.2, iOS 13.1.1, iOS 13.1, iOS 13
iOS 12.4.9, iOS 12.4.8, iOS 12.4.7, iOS 12.4.6, iOS 12.4.5, iOS 12.4.4, iOS 12.4.3, iOS 12.4.2, iOS 12.4.1, iOS 12.4, iOS 12.3.2, iOS 12.3.1, iOS 12.3
How to Jailbreak using Mac?
Step 1: Let's download the latest Checkra1n jailbreak version to your Mac.
Checkra1n Downloader
Step 2: Install the downloaded DMG file. Give File location as Mac's Applications folder.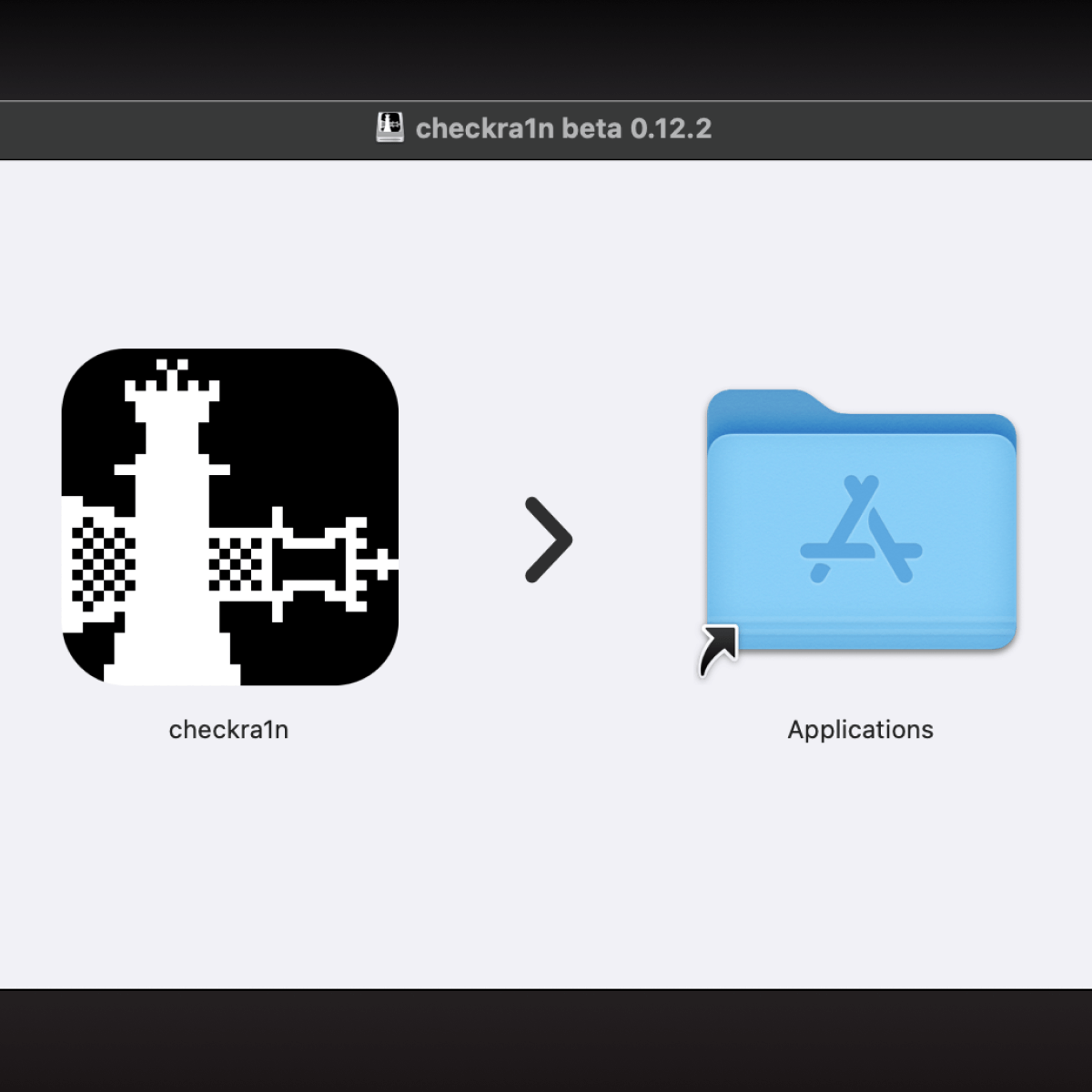 Step 3: This step 3 is an optional step If you experience a security error, follow the below path and instructions.
System Preferences app -> Click "Open Anyway" -> Enter "Administrator password" -> Reopen the Checkra1n.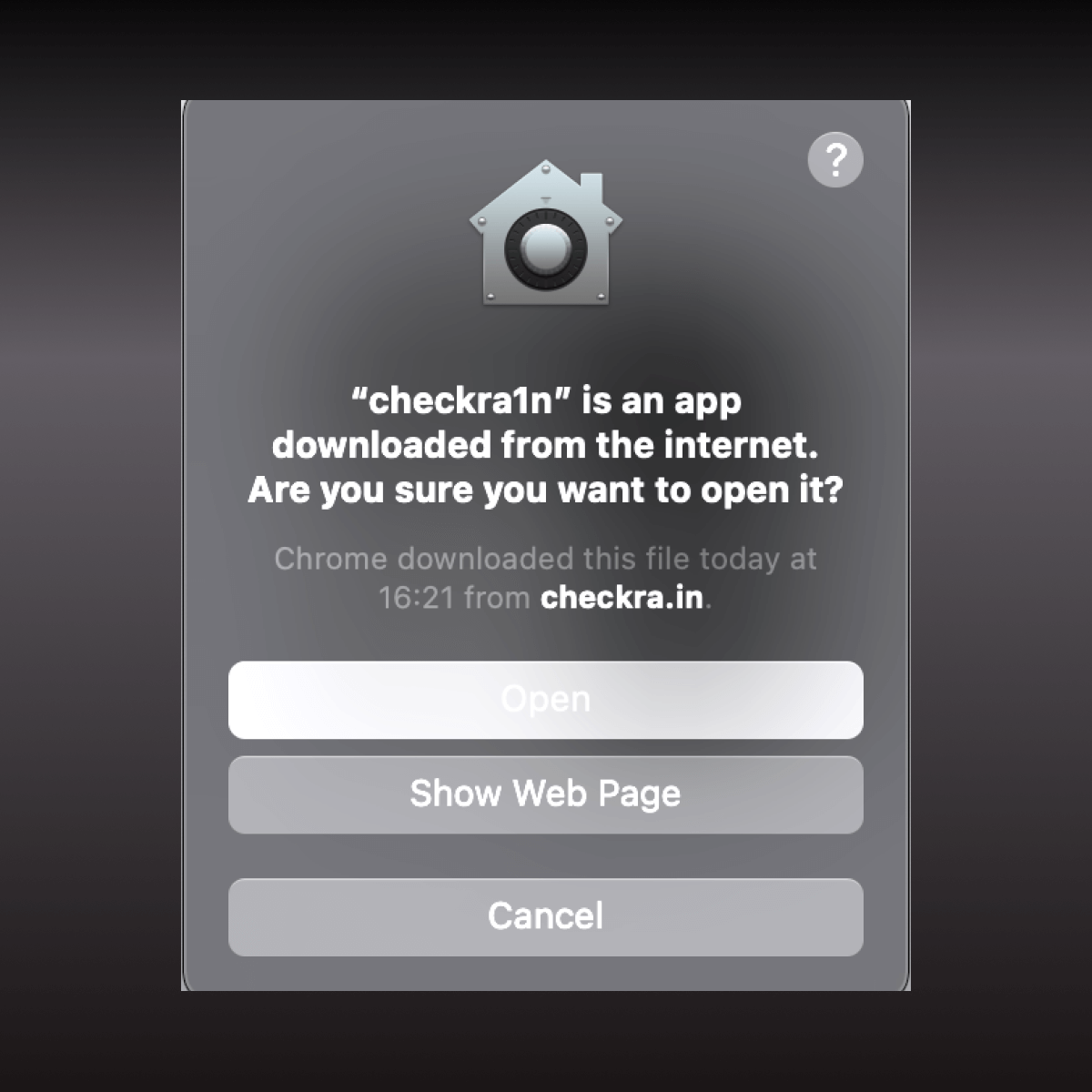 Step 4: Open the Checkra1n jailbreak app and select the "Allow untested iOS/ iPadOS/ tvOS versions".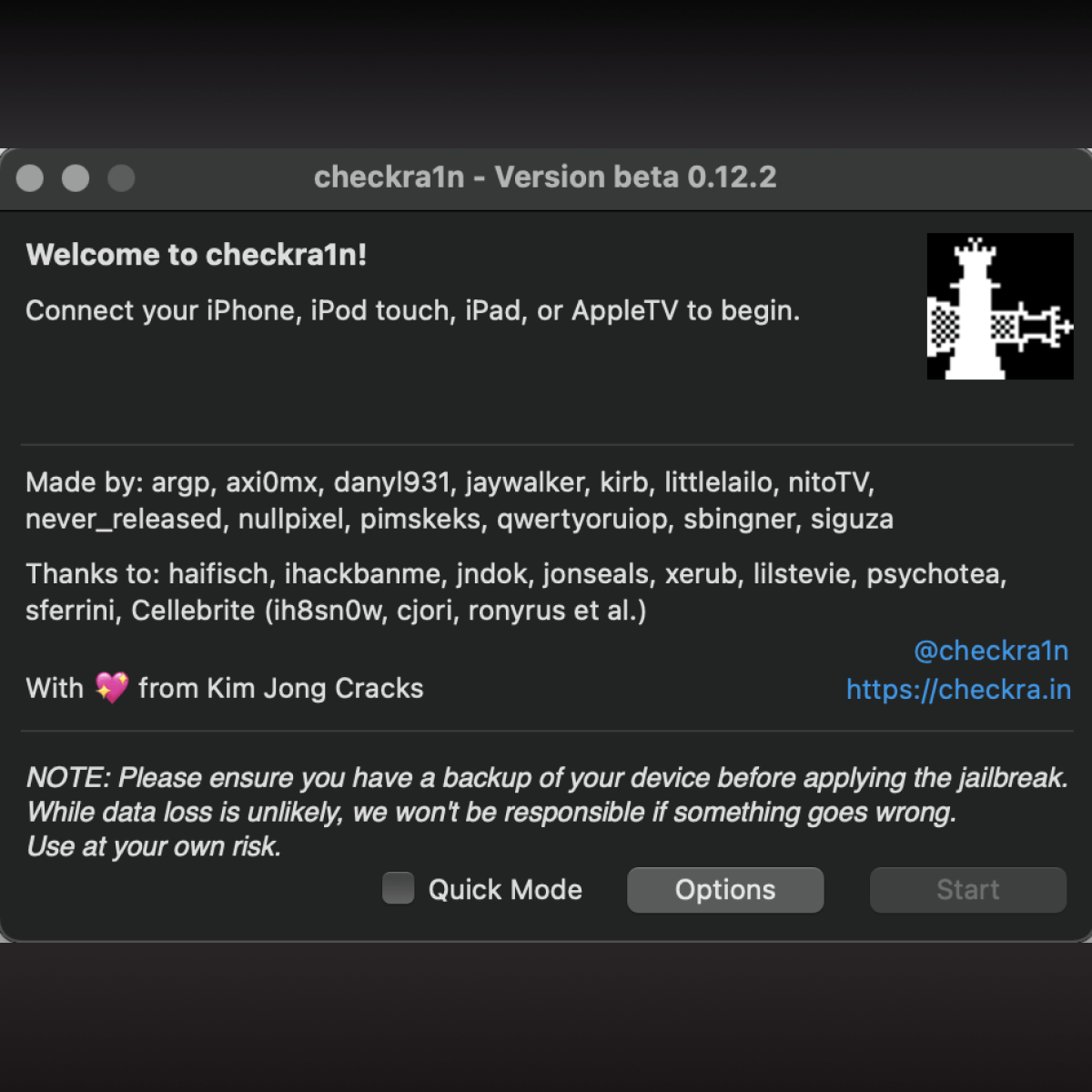 Step 5: Connect iPhone / iPad via USB cable and Click on the "Start" action to start the iOS 14.5 jailbreak process.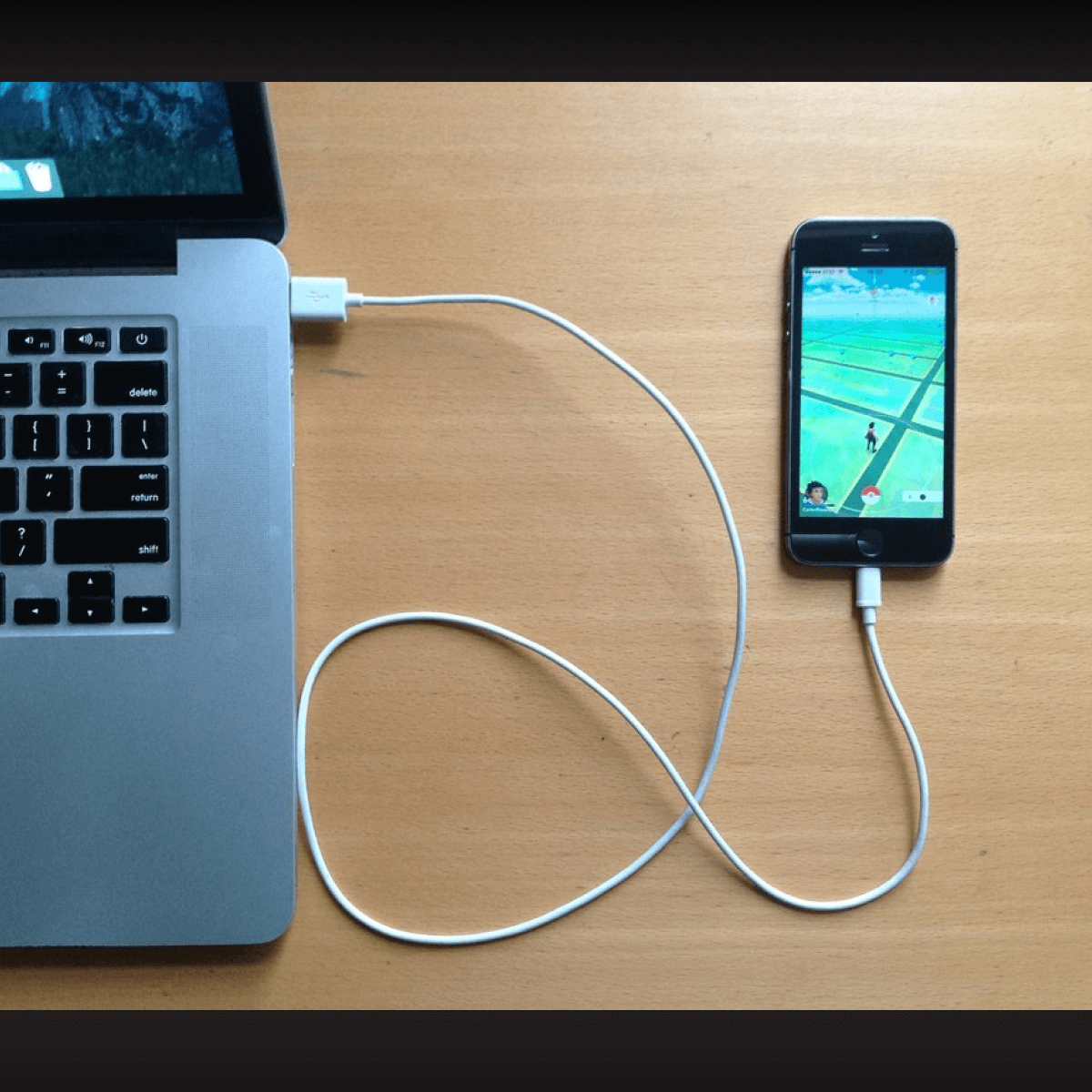 Step 6: Click Next and follow the instructions of the Checkra1n on the iPhones DFU mode.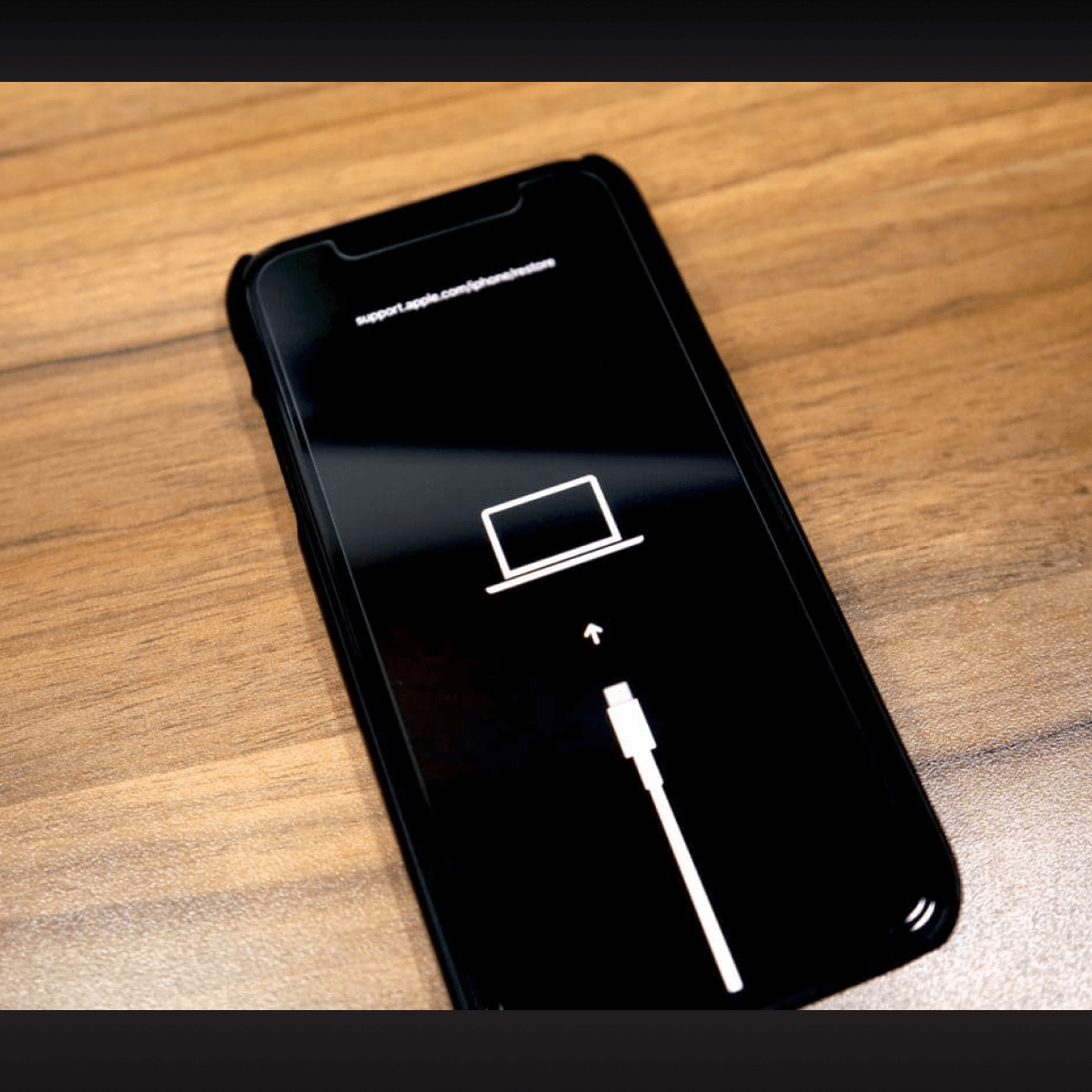 Step 7: Let the Jailbreaking process run. Your device will be automatically restarted when the jailbreaking process is done.
Step 8: Now you can see the Checkra1n app and cydia on your  iPhone home screen.
Checkra1n Issue on Apple Silicon Macs
The latest checkra1n update with v 0.12.3 is now consist with support for Apple Silicon Macs as hosts. But there are some identified issues in this version as below.
As per some issue in USB stack of Apple Silicon Macs, there will be a crash and reboot incident when jailbreaking with the latest checkra1n jailbreak over USB-C port. This can be solved from a manual unplug and a replugging of the lightning cable. When this checkra1n problem happens, app will automatically detects the condition and will let the users know to unplug.
The problem only persists for USB-C on Silicons Macs and for A7, A9X, A10 and A10X.
Devices that cause trouble in latest checkra1n update
iPhone 5s,
iPhone 7 and 7 Plus
iPad 6th and 7th generation
iPad Air 1 iPad mini 2 and 3
iPad Pro 1st and 2nd generation
iPod touch 7
Apple TV 4k
Other devices will be fine and also Apple Silicone Mini using USB-A port and Intel Mac also would be fine.  
How to Jailbreak using Windows?
You need to have a bootable USB driver with Checkra1n to install checkra1n on your Windows. Here is the step by step guide on how to create a bootable device and the run Checkra1n on windows.
Step 1: First of all you need to download all the required files for Checkra1n windows installation. You can download below total utility collection vial Checkra1n downloader easily.
Checkra1n Downloader
Select and download Checkra1n windows files (Bootra1n) according to your windows OS (32 bit / 64 bit)
bootra1n LiveCD (64-bit - 421 MB)
bootra1n LiveCD (32-bit - 396 MB)
Also download Rufus 3.13 tool.
Step 2: Plug your empty USB and prepare it for checkra1n bootable device using bootra1n.iso
Step 3: Right click on the rufus tool and choose the option "Run as administrator".
Step 4: Setup Rufus popup settings as follows.  And give the path to the bootra1n .ISO downloaded in the step 1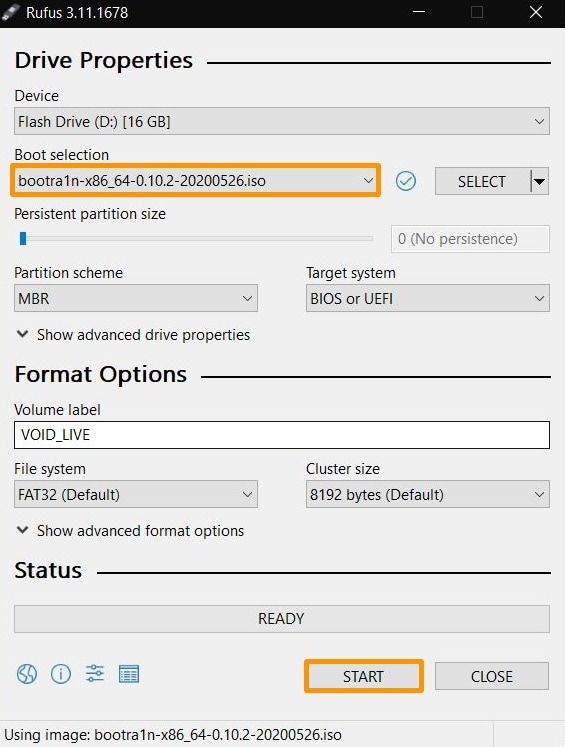 Step 6:  Click on the start.
Step 7: Click "Ok" on the popup. This will clear your USB data and boot it with given  bootra1n .ISO.
Step 8: After the process is done. Reboot and open bios. You can open bios settings normally on a windows pc by continuously pressing "F2" key or 'Delete" key.
Step 9: Find the boot options from the menu and select the newly booted USB as the 1st choice.
Step 10: Save changes and reboot the windows pc.
Step 11: Now you can see a terminal type Bootra1n interface.
Step 12: Enter the following:
login: anon
password: voidlinux

Step 13: After login to the system, enter the below code after $ (without quotes)
  sudo checkra1n
Step 14: Now Checkra1n will start to run. Let some time running the Checkra1n.
Step 15: Next window will inform you to make your device into DFU mode and connect via USB. To this process you will get on-display guides. Follow these instructions. Click next after completing this task.
Step 16: After that bootra1n will automatically start the jailbreaking process.
Step 17: Now you can see the Checkra1n verbose boot screen on your iPhone / iPad. Let sometime to the jailbreaking process.
Tara..! Now you can see the Checkra1n loader on your homescreen. Once you follow the onscreen instructions, You will successfully jailbreak your iOS 14.5 running device using Checkra1n.
How to Jailbreak using Linux?
iOS 14.5 jailbreaking is finally possible with your linux computer. Same as other Checkra1n jailbreak, linux version also support A5 to A11 chip included devices running iOS 14.5 and below. Let's see how you can jailbreak your iOS 14.5 using Linux.
Step 1: First of all you need to download the compatible Checkra1n version for your Linux. Use the below command for this to check your system architect details.
uname -a
Step 2: Download the checkra1n jailbreak files using the APT repo. Here are the commands that you need to run on your linux terminal

echo 'deb https://assets.checkra.in/debian /' | sudo tee /etc/apt/sources.list.d/checkra1n.list
    
sudo apt-key adv --fetch-keys https://assets.checkra.in/debian/archive.key
    
sudo apt-get update
    
sudo apt-get install checkra1n

Step 3: Run as root and enter your password to give permission to run the Checkra1n jailbreak tool.
Step 4: Connect your iOS device using a USB cable.
Step 5: Click "Start" to start the jailbreaking process.
Step 6: Make your device into DFU mode. And let some time to restart and open the jailbreak boot.
Open your home screen and now you can see the Checkra1n loader in your homescreen.
Follow the on screen instructions to jailbreak your iOS 14.5 running iPhone or iPad.
How to Jailbreak Online / Without a Computer?
You only need an alternative solution for  Checkra1n jailbreak,
If your  iPhone / iPad is the latest device that doesn't support Checkra1n jailbreak.
Or you do not want to jailbreak your iPhone / iPad, but needs to install jailbreak apps, jailbreak tweaks and themes
If you fall into Category 1, you can use online jailbreak tools such as Unc0ver, Taurine or Odyssey once it is released. But unfortunately no untethered / semi untethered jailbreak tools are available to install online. So you may try one of the following online jailbreaking alternatives
If all you need is just enjoying jailbreak apps and tweaks on your device, you don't need to jailbreak your device. Except jailbreaking you can use alternative app stores such as TaigOne and TweakMo. These app stores will give you jailbreak tools, non jailbreak and jailbreak tweaks, apps, cracked games, apps on carplay, ngxplay and carbridge alternatives and many more even without jailbreaking.
The installation step guides will be available once  is released. If you enjoy this article, Please like the article and share this with your friends and family.
Happy Jailbreaking and Happy Customizing iOS !!!