Does Checkra1n Jailbreak support iOS 13.6?
Checkra1n Jailbreak is one of the latest jailbreak tools in the jailbreak community. No online public release for checkra1n jailbreak has been announced. But a PC method is available for macOS and Linux
Checkra1n Jailbreak is one of the latest jailbreak tools in the jailbreak community. At the moment of this article written, no online public release for checkra1n jailbreak has been announced. But it is quite certain that it will be released soon when considering the latest updates. But a PC method is available for macOS and Linux.
Checkra1n jailbreak status update reveals that the jailbreak tool for Windows will be released soon. Let's talk from the beginning where Official Checkra1n jailbreak Twitter page released a teaser showing 3 iDevices with package managers.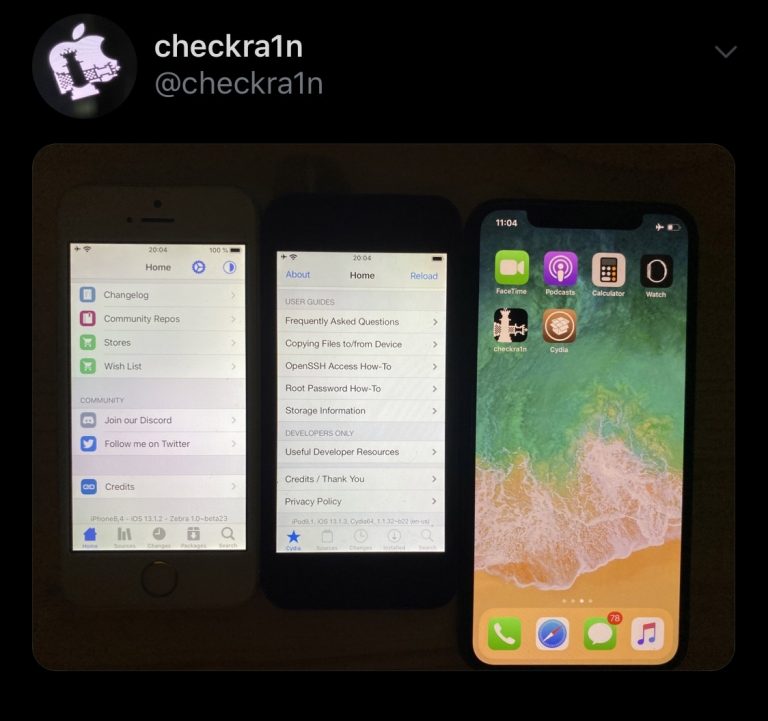 In this image, it shows 3 devices. From left,
iPhone  SE  running on iOS 13.1.2 with Zebra package manager,
iPod touch running iOS 13.1.3 with Cydia
iPhone X device with Cydia on Home Screen (with unknown iOS version).
So the summary of this pic is that axi0mX's jailbreak is a success with various package managers on and with the firmware iOS 13.5.1. This checkra1n jailbreak update is a huge success and also provide answers for many questions.
If you are running on iOS 13.6, there are no jailbreak tools available to fulfill the jailbreak needs of you as for now. But does that mean that you cannot perform those cool jailbreak functions in your iOS 13.6 running iPhone or iPad? The simple answer is "You can". Let me explain more about the available jailbreak solutions for iOS 13.6. Keep going on reading pal.
Cydia will be the leading package manager for Checkra1n jailbreak. Zebra package manager and other package managers will play in the future updates. Most jailbreak lovers asked this question, whether it will be Cydia or Sileo for checkra1n jailbreak. So it has been answered.
Cydia was once the king of the package managers. But saurik, the mastermind of Cydia was in a pause while ago. Zebra is an alternative to Cydia, but it may not be as familiar to some jailbreakers as Cydia. Furthermore, none of the devices are running CoolStar's Sileo package manager, and it seems that it will remained exclusive to the Chimera and Electra jailbreak solutions.
Sileo is the default package manager of Chimera developed by CoolStar. Chimera is the jailbreak tool released by the Electra team for iOS 12 – iOS 12.2 and iOS 12.4. It seems that this latest checkra1n jailbreak will not allow Sileo as a default package manager.
iOS 13.2 has been jailbroken by using this checkra1n jailbreak. This was done by qwertyoruiopz with an iPod which was running on iOS 13.2. Latest checkra1n is for iOS 13.3.1- iOS 13.5.1. The most important thing is Apple cannot fix this jailbreak and will be a permanent jailbreak once released.
Axi0mX and Jailbreak
Checkra1n jailbreak is a jailbreak tool developed by axi0mX and some other jailbreak developers. This jailbreak tool is based on checkm8 jailbreak exploit which was founded by axi0mx months ago. axi0mX managed to jailbreak iPhone X in two seconds. Then it displayed the verbose boot screen. The best thing is the OS was iOS 13.1.1 for this demo.
Checkra1n jailbreak team
axi0mX
ih8sn0w
jonseals
pshycotea
qwertyoruiop
nullpixel
xerub
siguza
The importance of this jailbreak is that it is an unpatchable jailbreak. That means this cannot be patched with any iOS version update. The jailbreak is done to the hardware core and cannot be patched by any iOS updates. This is the reason checkra1n will be permanent jailbreak.

This exciting news made a blast of the jailbreak community as it did for the limera1n jailbreak a few years back. It was a jailbreak by Geohot for iOS 3.2.2 – 4.1. Development status of limera1n jailbreak is Deprecated at the moment. This also was based on limera1n Exploit and was an untethered jailbreak and unpatchable jailbreak for,
Phone 3GS
iPhone 4 (iPhone3,1)
iPod touch (3rd generation)
iPod touch (4th generation)
iPad
Apple TV (2nd generation)
Just as in checkra1n,
limera1n uses a bootrom exploit to achieve the tethered jailbreak and unsigned code execution.
limera1n uses a userland exploit to make it untethered, which was developed by comex'.s Packet Filter Kernel Exploit.
Axi0mX's checkm8 jailbreak exploit has shown another way for firmware downgrades with software like ipwndfu. ipwndfu is an open-source jailbreaking tool for many iOS devices. It can be used to jailbreak and download without SHSH blobs. It also can be used to downgrade without SHSH blobs. This tool should be compatible with Mac and Linux. It won't work in a virtual machine. Developers have warned the public that this is in beta stages and backup your data before performing any process plus have not given any warranty.
Checkra1n Jailbreak compatibility
Checkra1n Jailbreak is compatible with A5 – A11 devices. This means A11 Jailbreak is possible with checkm8 Jailbreak exploit along with A5 Jailbreak.
What are A5 devices:
The Apple A5 is a 32-bit system on a chip (SoC) designed by Apple Inc. and manufactured by Samsung. The first product Apple featured an A5 in was the iPad 2. It is said that the ARM Cortex-A9 central processing unit (CPU) in the A5 is up to two times faster than the CPU in the Apple A4, and the PowerVR SGX543MP2 graphics processing unit (GPU) in the A5 is up to nine times faster than the GPU in the A4. Apple also claimed that the A5 uses the same amount of power as the A4.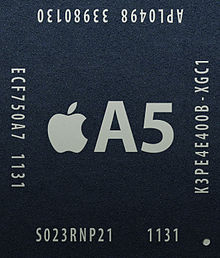 iPad 2
iPhone 4S
Apple TV (3rd generation)
iPod Touch (5th generation)
iPad Mini (1st generation)
Apple TV (3rd generation Rev A)
What are A11 devices: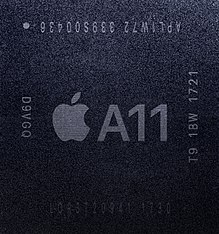 The Apple A11 Bionic is a 64-bit ARM-based system on a chip (SoC), designed by Apple Inc. It first appeared on the iPhone 8, iPhone 8 Plus, and iPhone X which were introduced on September 12, 2017.
Phone 8 and 8 Plus
iPhone X
Every device among these A5 – A11 device list will be under the control of checkra1n. This is easy in identification based on devices rather than based on iOS versions as this comes in the device base. Since this is based on bootrom exploit, the iOS version does not count and is based on iPhones/iPads.
Both this A12 and A13 jailbreak were difficult to achieve as for the different technology. But the hurdle has been broken.

Checkra1n Jailbreak download
This is the most important topic for jailbreak lovers. Download Checkra1n jailbreak online has to wait a while until a firm public release announcement. Our page will bring all the details and checkra1n jailbreak release date with download links once it is decided to release.
There were some scam sites and scam jailbreak apps regarding checkra1n and the public were informed about those via social media. It is common to have these scams after a sudden boost and jailbreakers need to be alert for which websites and apps provide accurate details and accurate products.

Checkra1n Jailbreak installation methods
Chackra1n jailbreak download is available for MacOS and Linux (CLI, x86_64), (CLI, arm), CLI, arm64) and for Linux (CLI, i486).
There might be some more jailbreak apps or tweaks which assisted via checkm8 jailbreak exploit. If so, we will surely bring you those details. Those might be available in online method which will be super easy for users to download.
Our page will guide you through the installation process for both methods. Most of all, we will bring you checkra1n jailbreak free download links for your ease.
Now let's have a walk with latest iOS 13.6.
iOS 13.6 Jailbreak Alternatives
There is a list of available jailbreak solutions for trying out till fully untethered jailbreak is released. Here are some solutions for you to try out.
Taigone Jailbreak Finder
Tweakmo
Hexxa Plus
zJailbreak
Let's discuss about one by one because these jailbreak solutions can be used to perform different tasks. Taigone is my favorite so I will start from it. Please note that we discuss about the full jailbreak tools later in this article as no jailbreak tools are available yet
1. TaigOne Jailbreak Finder
TaigOne is a jailbreak Tool finder that supports iOS 13.6. If you are running on iOS 13.6, Taigone is one of the coolest apps that you have to use on your phone, because it helps you to achieve the followings in iOS 13.6. Let's have a look at the features of Taigone
What are the features of TaigOne?
Finds Jailbreak Tools for your iPhone
Allows you to install Jailbreak Apps without Jailbreak
Gives you the access to hacked apps and games
Paid apps for FREE
Want to know more about taigone? Visit iOS 13.6 Jailbreak page at our partner website.
2. TweakMo
TweakMo is a well known app for downloading Jailbreak Apps without Jailbreak, therefore you may try Tweakmo to install,
Jailbreak Apps
Cydia Repos
Tweaks
Hacked Games and more
TweakMo was introduced by Yalu Jailbreak in iOS 10.3 and it was the most popular jailbreak app installer for iOS 11 and iOS 12. With the time it moved to the #2 in this jailbreak app list.
*** Please note that this order is created according to the user reviews
3. Hexxa Plus
Hexxa Plus is known as the Next Generation Jailbreak Solution, because it supports almost all the new iOS Versions. Therefore hexxa plus is worth to give a try. There are two methods available to download Hexxa Plus. You may download it from the official Website or you may use zJailbreak to download Hexxa Plus.
Let's see how to download Hexxa Plus using zJailbreak.
Download and Install Taigone App. See How to install Taigone
Install zJailbreak using Taigone
Open zJailbreak and Find Hexxa Plus(Full) App
Install Hexxa Plus and enjoy iOS 13.4 Jailbreak with Hexxa
4. zJailbreak
Pangu8 team released zJailbreak in 2016 because there were less support to online jailbreak tools. Also it was used by many iOS Jailbreak Teams to fulfill their jailbreak needs. So zJailbreak comes to the list as the fourth most downloaded jailbreak app provider.
There is an easy method to download zJailbreak. As you already downloaded Taigone, zJailbreak is a few taps away. To begin with zJailbreak, just find the zJailbreak app and Install.
You can find the features of zJailbreak below. Also please note that zJailbreak has free and freemium versions to support user needs. TaigOne offer zJailbreak Freemium, known as Paid Version for Free. Hence we strongly recommend to download Taigone before downloading any of these tools. Furthermore, you can use the official website of zJailbreak to download this awesome app
Special Thanks: